Client Profiles: HyperSites Site Builder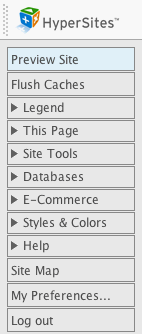 The HyperSites team has been colocating with us since December 2003.
They have grown and expanded the feature set of their product into a kick-butt system for building your website with tremendous flexibility and ease of use.
Late 2005, HyperSites was due to bring on a new client that was an order of magnitude larger in complexity and traffic than any they had hosted before.
So, in early Summer 2005, we sat down with their development group and spent some time laying out a plan to improve their architecture and to take their system to the next level in terms of scalability and robustness.
This involved multiple layers in their application stack. Upgrades were made to their database schema, web server configuration and factoring out whatever code was necessary so that their application could be load balanced across multiple servers.
Today, HyperSites serves out millions of page views a month. And of course, they use HyperSites tools to maintain the hypersites.com website.
"In my experience co-location facilities are all about the same, but Brian and the MacServe team are why we stay. Their interest and understanding of our infrastructure is invaluable."
Michael Sitarzewski
President, HyperSites