About Us: Our Hosting Network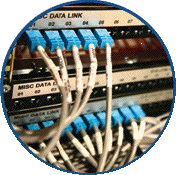 MacServe.net's hosting/colocation network encompasses the following amenities:
200 Mbps upstream Internet connection via Fast Ethernet in carrier class facility


Bandwidth provided by the Dallas InterNAP PNAP, widely regarded as having the best transit network available.
InterNAP is the premier provider of "NAP-less" and smart routing technology for Internet traffic. Consistently recognized as having the best IP transit in the world, your critical traffic will always traverse over the shortest path available.

The Dallas PNAP utilizes the following interconnects:

10 Gigabit Ethernet to UUNet
1x Gigabit Ethernet to Verio
10 Gigabit Ethernet to Level3
1x Gigabit Ethernet to AT&T
1x Gigabit Ethernet to Sprint
1x OC-3 to Savvis

1x Gigabit Ethernet to Global Crossing
1x OC-3 to XO (Gigabit Ethernet = 1000 Mbits/sec)
(1 OC-3 = 155.52 Mbits/sec)



Use of Cisco high end routers and ethernet switches and Juniper NetScreen and SSG Firewalls


100Mbits/sec Fast ethernet backbone architecture


Uninterruptable power including diesel power generation systems


Redundant temperature and humidity control systems


Redundant domain name servers on geographically separate networks for maximum reliability.


Nightly off-site backup.
Signup for service here